Those of you who know me and have followed my postings around the web are well aware that I never argue with creationists. I never dispute their belief in the truthfulness of the Bible or their interpretation of their religion. I'm not inclined to regard a person as a fool because I don't understand them or because I don't accept their version of truth.
I do argue with evolutionists because they presume to represent science. They adopt the mantle of science, which I care greatly about, to give themselves legitimacy in their own eyes and (they hope), in the eyes of others.
I hold to the view that we can understand ourselves better by identifying those traits and characteristics in others that most antagonize us. We meet ourselves every day in department stores, at school, in restaurants and in the pages of books (especially history books), magazines and on television. Each stranger that we meet is a reflection of ourselves, a portal to better self-understanding.
Both evolutionists and creationists would be better served by not torturing those with whom they disagree, for certainly it is the tortured who soon enough turn into torturers. How quickly the worm can turn.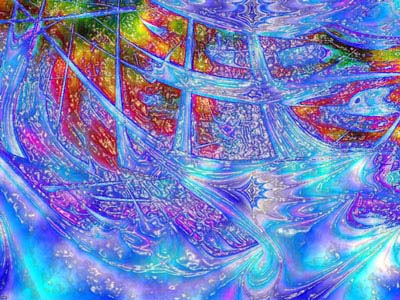 Personally, I always defend science, because it informs us about the physical world better than any other method and it increases our store of knowledge more accurately than the use of pure reason alone.
But a view that assumes that scientific understanding is the *only* kind of understanding that there is obscures and dilutes our insight and our harmony with the world. Science is a tool of the western mind, not all of mankind.
Now I certainly can't prove that God doesn't exist, nor can I prove that he does. But I am sure of the fact that the *impression* of God (the archetype?) exists in *every* person. Whether God actually exists is mostly irrelevant. What is important is that large numbers of people believe it.
I also believe that there is a huge advantage available to those who can locate this power, whatever its source, in their own individual self and use it for their benefit. Why should I deprive those who may have found this transforming energy in religion? What purpose does it serve me or them, to ridicule and condemn their beliefs as silly and unscientific as I might think they are?
This doesn't mean, of course, that I will allow others to impose their beliefs on me. The teaching of religion, while acceptable in church schools, is wholly unacceptable in public schools. Likewise, ideologies of any kind, especially those ostensibly validated by the mantle of science, are likewise unacceptable in public education.
However, since religion is obviously an important part of my fellow citizens' lives, I have no fear of sharing with them the joy and pleasure that they get from their mythologies, even though I'm a non-believer. I have no problem with a Christmas tree or a menorah in the town square or Christmas carols in the school concert or a moment of silence in a school day. These things do not threaten me, as they apparently threaten others. There's little enough to feel good about in this uncaring and often cruel world; it seems a bit silly to deny people what comfort they may find, wherever they may find it.